Socotra Travel and Tours
Socotra Holidays is a Tour Operator offer Monthly packages tours ( scheduled groups tours) and weekly private tours for Socotra travel at an affordable and competitive prices for the those who are eager to visit the Island of Socotra ( The Domicile of Dragon Blood Tree ) and joining to other solo traveler in order to reduce the cost.
The main objective of Socotra travel and tours is to give a chance to those who suffer from budget restrictions and who dream of visiting Socotra. And also It is a good opportunity to meet new friends during your Socotra travel. Therefore, we created this tour method to help make those dreams come true.
The duration for  Socotra travel and tour is 8 days / 7 nights, from Tuesday to Tuesday, all inclusive.
Covid 19 update.
Due the Flight is currently operating every Tuesday from Abu Dhabi to Socotra. So, no need PCR test in order to visit Socotra. This procedure has been in place since the beginning of June 2022.
The Monthly offers dates as following:-
Our Booking for the upcoming season starting, book your spots today.
Tour dates from / to

Group size

Tour's Status

Tour's Price

Itinerary Details


Solo Travel

Couple P / P


September 26 – October 03rd, 2023

3 – 7 Pax

Available for booking


 1200 USD

1150 USD

             Click here

October 10 – 17th, 2023

3 – 7 Pax

Available for booking


 1200 USD

1150 USD

November 14 – 21st, 2023

3 – 7 Pax

Available for booking


1250 USD

1200 USD

December 12 – 19th, 2023

3 – 7 Pax

 Available for booing


1300USD

1250 USD

December 26 – January 02nd, 2024

3 – 8 Pax

  Available for booking


1450 USD

1410 USD

January 09 – 16th, & 23 – 30th, 2024

3 – 7 Pax

Available for booking


1400 USD

1350 USD

February 13 – 20th, 2024

3 – 7 Pax

Available for booing


1400 USD

1350 USD

March 12 – 19th, 2024

3 – 7 Pax

Available for booking


1350 USD

1300 USD

April 02nd – 09th, 2024

3 – 7 Pax

Available for booking

1350 USD

1300 USD

May 2nd – 9th, 2023

3 – 7 Pax

Available for booking


1300 USD

1250 USD
Please Note:
If the above dates do not working with you. So, don't worry, just provide us with the date for your Socotra travel. And contact us and we will send you a quote for an itinerary according to your preferred date.
The prices above are fully inclusive to the following services:
2 nights hotel accommodation, (one single room for each as the itinerary above).
Airport transfer Services (from / to airport).
Full board meals (breakfast, lunch and dinner) including drinking water during the tour.
English speaking guide (Socotra travel guide who has a long experience and knowledge of the fauna & flora ).
All transportation using (4WD Toyota land cruiser Car) during the tour including the driver and the fuel.
All entering fees to protected areas.
All the required permits and local guides.
5 nights camping including all the camping equipments except the sleeping bags.
Excursion boat trip from Qalancyia to Sho'ab golden beach you'll see the dolphins if you are lucky.
Visa fees and arrangement.
Arrival and departure airport tax.
Doesn't inclusive
Personal insurance.
Snorkeling equipment.
International Airfare Abu Dhabi – Socotra – Abu Dhabi. (860$)
Expenses of personal purpose or optional excursions, which are not included in the tours.
Any other services not mentioned above are not included in the price.
Most frequently asked question for Socotra Travel.
How I can join to one of these tours?
If you are interested in joining one of these tours, simply select your Socotra travel date from the list above. Then, send us an email or text message via Whatsapp

, or Telegram

, or Facebook messenger

, in order to reserve a place for your Socotra tour.
How to travel to Socotra ?
There is a weekly flights to Socotra (direct flight, non-stop) from Abu Dhabi (United Arab Emirates) to Socotra every Tuesday by Air Arabia.
This flight is not available for online booking yet. But, of course we will book your flight and buy your round trip flight ticket through Air Arabia agent here.
– Currently, departure time from Abu Dhabi airport at 09:25 AM (UAE Local time) Flight NO 476. Arrival Socotra airport at 10:40 PM (Yemen local time).
– Departure from Socotra airport at 12:10 PM (Yemen local time) Flight NO 477. Arrival on Abu Dhabi airport at 15:25 PM (UAE local time).
Yemenia Airways will re-operation a weekly flight from Cairo to Socotra very soon, once they scheduled the flight we will post the details here.
How I can book one of these tours?
In order to book your favorite ٍSocotra tour, kindly send us an email with a color copy of your passport (first page contains personal details).
valid for at least six months in order to process the visa from here. The visa process takes a maximum of 3-5 working days to be ready. After that, we will email you a color copy of your visa which you will use to board your flight. We will meet you when you arrive at Socotra airport, with your original visa document. And then, we will finalize the final registration of the visa (stamp your passport).
Is there a problem if I am a vegetarian? or if I have special dietary requirements?
No problem at all, we know how to serve you. So don't worry from this side.
Is Socotra safe to visit as a solo female ?
Yes, without any doubt, Socotra is very safe.
Can Americans travel to Socotra Island and is it safe for them?
Yes they can, and Socotra is safe for everyone without exception. All visitors are welcome to their second homeland Socotra. They are the guests of Socotra at any time.
If we spend some overnights camping, are there shower and toilets?
Yes, there are several camping sites on Socotra supplied with shower and toilets such as Dihamriy, Aomaq beach, Dixsam and Detwah lagoon.
When does the bottle tree and Dragon's blood tree bloom  ?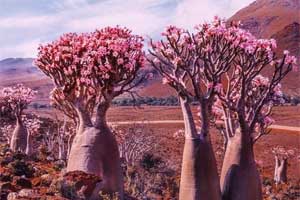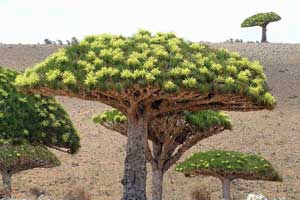 The bottle trees (Desert Rose) blooming from the end of March. but Dragon blood tree blooming from April up to May.
When is the best time for Socotra travel ?
The best time to visit Socotra when the monsoonal completely end, So  we highly recommend travel to Socotra from the beginning of October to the first half of May. From June to September the monsoonal makes very difficult to visit Socotra.
Things you need to pack before your Socotra travel.



Bring USD cash with you to Socotra. In addition, the date of printing the currency must be from 2009 and above.
Because the USD which issued before 2009 not acceptable on Socotra. in addition, no ATMs available on Socotra.


The WIFI available in Hadiboh. And mobile network data available in some places. So, you can get hotspots connection from your driver or guide. but, it is weak.

Sunglasses. towel, soap, shampoo and Small tissues or toilet paper and swimwear.

Bring shoes or sandals.


Headlamp (forehead torch).

Your personal medications and some medical kit, such as analgesics, antiseptic, antibiotic, intestinal.


Insect and Anti-mosquito repellents.

Small backpack for your personal stuff.